We are Amparo and Cèlia, two enthusiasts with heads full of ideas who enjoy working as a team. But what's important is not who we are, but what Lespardenyeta is. It's a project that unexpectedly came to life on December 30, 2019.
Lespardenyeta is more than just jewelry; it's a sense of belonging that unites tradition with modernity. It's the result of work done with love and commitment. It is made locally, so all its benefits contribute to providing employment to our people and wealth to our country. With Lespardenyeta, family members, friends, and collaborators walk together, making this challenge possible. Thanks to all of them.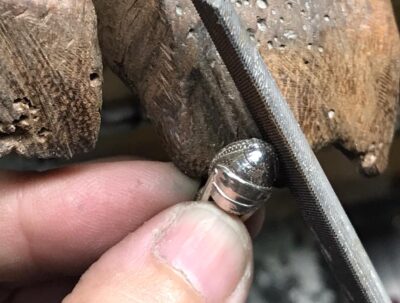 Each piece is the result of an artisanal process.
In our workshop, we create these elegant high-end fine jewelry pieces through a delicate and meticulous process to preserve the textures of the piece. To represent the weaving of the soles of the Catalan espadrilles, we give the cover an impeccable finish, highlighting the distinctive veins of the original piece to faithfully reproduce its texture, enhancing it with the most precious metals: gold and silver.
Registrant-te a la nostra newsletter, no t'ho perdis!
Join our list to get 15% off on your first order
(Sometimes we go to spam, check!)
Lespardenyeta social media
A feeling turned into a jewel.
CONTACT US
(+34) 630 95 25 38
(+34) 625 43 28 75
info@lespardenyeta.cat